Walkabout Performances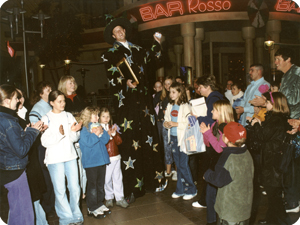 If you need walkabout entertainment for a funday, festival, store opening or corporate event then look no further.
Either as a large friendly wizard on stilts in a spectacular costume or on foot, Merlin will instantly make your guests feel at home.
Merlin's tremendous, outgoing personality coupled with such skills as: Contact Juggling, Magic, Impromptu Balance and the quick, portable hat of doom challenge, will make your special event one to remember!